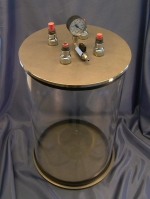 Pelcon Materials & Testing ApS -

Vandtårnsvej 104, 2860 Søborg, Danmark

Peter Laugesen, email, Tel.

products: Vakuumkamre

PELCON has developed vacuum chambers that can be used for a variation of different purposes in the laboratory. The vacuum chamber is essential in the process of fluorescence impregnation of samples (e.g. drilled concrete cores) or thin sections.

The chamber on the photo measures D=285mm. Standard internal height is from 350mm to 450mm. We can provide chambers in other dimensions if needed - e.g. for full impregnation of longer drilled concrete cores.