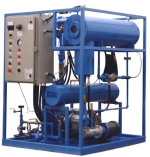 Filtervac International Inc.
250 Woolwich Street South, Breslau, ON Canada N0B 1M0, Canada

email, Tel.

Filtervac was first established in 1983 and was reorganized in 1990 with much stronger focus on the global market. The founder and president of Filtervac International was the former Chief Engineer of Keene-Bowser Corp. and during this period, Keene-Bowser was known as the world leader in oil dehydration equipment used for insulating oil applications in the electrical and power industry. This laid the foundation on which Filtervac improved and expanded on it's line of filtration products.
products:
Filtervac's stationary, portable and mobile High Vacuum Transformer Oil Purification Systems (Model VPH) is used for transformer oil dehydration and transfromer oil degasification as well as other electrical insulating liquids such as silicone fluids. The VPH Process is able to increase and maintain the oil's dielectric strength and includes the removal of free and soluble water, free and dissolved air and gases and particulate matter. The standard VPH system is designed for processing oils in workshops, in storage tanks or directly in transformers (energized or de-energized transformers).