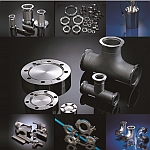 ADVANTIV Technologies Inc. - www.advantivtech.com
- 48890 Milmont Dr. Ste 104-D, Fremont, CA 94538, USA

email: sales@advantivtech.com, Tel. +1 (510) 490-8260

Advantiv Technologies, Inc. is part of the Advantec group of companies. Advantec Co. Ltd is a Japan-based manufacturing and sourcing company supplying a variety of components and consumables to the semiconductor equipment and related industries.
In both the wafer and vacuum components markets, Advantec ranks within the Top 5 in Japan, thanks to over 200 customers. In November of 2001, Japan's Nikkei Business Daily named Advantec as one of the top five fastest growing companies in Japan.
products: Wide Selection of Vacuum Components
Advantec manufactures various vacuum components and weld metal parts that are mainly used in semiconductor,photovoltaic,optical media, and sputtering tools.
For customers looking to capitalize on the most comprehensive product opportunities in the Pacific Rim, Advantiv offers bare wafers and blanket filmed wafers (Cu, Low-K, BPSG etc.), leading-edge patterned wafers (ArF, CMP characterization, dual damascene, SAC, etc.), vacuum components, gas supply manifolds, and an ever-expanding list of specialized consumables and electro-mechanical components.