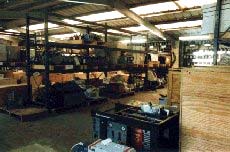 Island Scientific Ltd. - www.island-scientific.co.uk
- Station Road, PO38 1DX Ventnor, United Kingdom

Alan Lloyd, email: sales@island-scientific.co.uk, Tel. + 44 1983 855 822

Island Scientific Limited occupies Workshop and Warehouse of 10,000 sq ft on our freehold site of 1/2 acre on the Industrial Estate at Ventnor.
Holding the largest stock of used vacuum equipment in the UK, we supply world wide Reconditioned Rotary Pumps, Diffusion Pumps, Coaters, Degassing and Casting Systems components, spares and service.
All to ISO 9001. Island Scientific will arrange collection of your vacuum pumps from your works and re-delivery when completed. Decontamination takes place in our top of the range washing/drying machine to safely remove toxic chemicals (from the semiconductor industry etc).
products: Refurbished and Rebuilt

We carry a comprehensive range of refurbished and rebuilt vacuum pumps and associated equipment.

Vacuum Pump Servicing: As well as supplying a full range of refurbished and rebuilt vacuum pumps we also carry out full decontamination, servicing and repair all types of vacuum pumps, that includes Dry Pumps , Mechanical Boosters (Roots blower), Rotary Vane vacuum pumps, Rotary Piston vacuum pumps, Direct Drive Rotary pumps, Diffusion pumps and Turbo pumps.