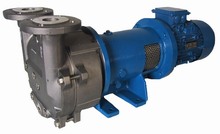 Armek s.r.l.
- Via Alessandro Volta, 85/A, 20020 Ceriano Laghetto (MI), Italia

email, Tel.

Armek is an international subsidiary of GemmeCotti Sas. Located in Ceriano Laghetto, Italy - EU, Armek is specialised in the design and manufacture of mag drive centrifugal pumps, mag drive turbine pumps, mag drive vane pumps, liquid ring vacuum pumps.
Armek pumps are manufactured from a varied range of materials such as PP, PVDF, AISI 316, AISI 316 L, ALLOY 20, HASTELLOY - C, TITANIUM.
prodotti: VPS/ VPL liquid ring vacuum pumps
Q max: 450 m³/h; Vacuum max: 33 mbar
Materials: AISI 316; AISI 316 L; HASTELLOY-C; TITANIUM
Suitable for corrosive, toxic, noxious and carcinogenic gases; hydrocarbons, pyrophorics and other flammables gases