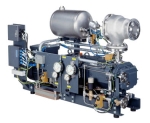 BUSCH France S.A. - www.busch.fr
- 16 rue du Bois Chaland, 91090 Lisses, France

email: busch@busch.fr, Tel. +33 1 69 89 89 89

La société Busch, spécialiste et leader en pompe à vide et systèmes de vide propose un ensemble de produits, systèmes et services pour de multiples applications: technique de vide médical, emballage, manutention, transports, chimie, pharmacie, plastiques, papier, imprimerie, agro-alimentaire, bois, matériaux de construction, séchage, environnement, métallurgie, semi-conducteurs, etc.
Fondée en 1979, Entreprise certifiée ISO 9001
Produits: BUSCH COBRA - ATEX Dry Screw vacuum pump

COBRA screw vacuum pumps have been designed for all industrial applications with a special focus on the chemical and pharmaceutical industries. In conformity with the latest requirements of Directive 94/9/EC (ATEX 95), COBRA screw vacuum pumps even allow pumping from and into potentially explosive atmospheres without restrictions. Dr-Ing. K. Busch GmbH launched this compression principle at Achema in 1994, and has, in 1999 successfully passed the first EC type examinations in conformity with Directive 9479/EC, i.e. with experimental testing.

Today, the overall portfolio of COBRA screw vacuum pumps include:
1. Standard versions COBRA NC and COBRA AC for industrial processes in non- explosive atmospheres.
2. Standard version COBRA N for industrial processes which require particularly deep (vacuum as low as 0,01 mbar.)
3. COBRA TC, which, due to its direct rotor cooling, conforms to Directive 94/9/EC and meets the frequently required temperature class T4 (T surface < 135°C) for the entrained vapour without restrictions.