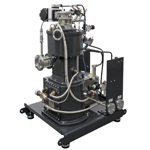 STERLING SIHI GmbH - www.sterlingsihi.com
- Lindenstrasse 170, 25524 Itzehoe, Germany

email: sales@sterlingsihi.de, Tel. +49 (4821) 771-01

products: Dry vacuum pumps

The SIHIdry meets the need for a robust, intelligent and reliable vacuum pump offering outstanding liquid and particle carry-over capabilities while precisely matching duty conditions with a totally controled temperature profile:
Two vertical non-contacting screws rotate in opposite directions, transporting the gas from the top inlet to the bottom outlet of the casing.
The shaft are supported by bearings which are at atmospheric pressure and not exposed to vacuum.
The two electronically synchronised motors are located within the pump ensuring that no mechanical shaft seals or gears are needed.