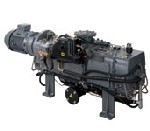 Edwards
- Manor Royal, Crawley RH10 2LW, United Kingdom

email, Tel.

world leader in vacuum technology for semiconductor. The company is engaged in the development, manufacture and support of a wide range of vacuum pumps, systems, boosters and accessories based on a number of technologies and capable of achieving high vacuums down to 10-7 mbar.
Edwards pioneered the oil-free dry pump, originally for the semiconductor industry and subsequently for other industrial processes, and now markets a series of dry pumps using claw, roots, scroll and combined mechanisms.
Typical applications are also in the chemical and pharmaceutical processes, e.g. distillation, reaction, drying.

products: Dry vacuum pumps
The DP series consists of four models: DP80, DP160, DP250 and DP400 giving vacuum levels down to 0.5 mbar.
They are three-stage claw mechanisms, mounted vertically, inlet at the top, so that any liquid can drain through the pump. The gearbox is protected from process fluids by double shaft seals and a gas purge system. As claw pumps can experience hydraulic lock, a disengaging torque limiter is provided between motor and pump.
The CDX1000 (900m3/h, designed for use in pharmaceutical and industrial applications) is the first of a new family of dry vacuum pumps with double-ended screw technology.
The CDX range features a pair of variable pitch rotors machined to exacting tolerances with no need for coatings or a compression plate at the exhaust. Variable pitch geometry provides staged compression along the length of the screw resulting in lower running temperatures and lower process power consumption.