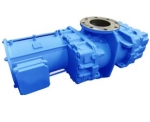 AERZENER Maschinenfabrik GmbH - www.aerzen.com
- Reherweg 28, 31855 Aerzen, Germany

Stephan Brand, email: info@aerzener.de, Tel. +49 (5154) 81-0

Year of foundation: 1864, Employees: 830 at parent company, 300 in subsidiary companies (19 Subsidiary companies),
Blower production: approx. 8.500 per year
products: Vacuum roots pumps with canned motors
Volumic flow range: approx. 1000 up to 15570 m³/h
Based on the successful canned motor blowers (CM) for aggressive gases in solar-, flat panel- and semiconductor industry Aerzener Maschinenfabrik extended the range of products by the series HM for the application of neutral gases. The new drives are designed water-cooled and hermetically sealed. Due to the reduction of the eddy current losses the energetic efficiency of the motors has been improved considerably and thus offers the best possible load of the vacuum blowers on the market.
ATEX Roots vacuum blowers are also available.