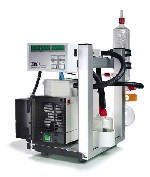 KNF Neuberger U.K., Ltd -
- Avenue 2, Station Lane Industrial Estate, Witney, Oxfordshire, OX28 4FA, United Kingdom

email: info@knf.co.uk, Tel. +44 (1993) 77 83 73

The UK subsidiary offers a global approach, but with local touch. At our facilities in Witney, Oxfordshire we are able to offer full sales and technical support, repair and after sales service. UK systems and specialised packages are an integral part of our operation. KNF experts are your competent partner for all applications involving transferring, compression, evacuation and metering.
products: KNF Laboport
Diaphragm pumps used in the chemical and process engineering sectors
instrumentation and control applications, analytical devices, medical technology, and in the laboratory
Micro Pumps (0.25 to 4 LPM), Mini Pumps (4 to 15 LPM), High Capacity Pumps (17 to 300 LPM), Heated Head Sampling Pumps (9 to 64 LPM), Explosion Proof (17 to 56 LPM)
features available:

Double diaphragm system for more safety in pumping toxic, hazardous or valuable gases
Heated Pump head to prevent condensation: up to 240 °C with electronic temperature control