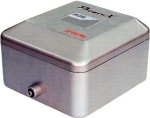 SECOH SANGYO CO., Ltd -
- 966 Ogo, Tabuse-cho, Kumage-gun, Yamaguchi-pref. 742-1513, Japan

email, Tel. +81-820-52-2147
products: Linear air pumps

Our diaphragm type blowers and pumps have characteristics of low power consumption and low noise, which are superior to previous blowers. These can blow clean air because no oil is used.
Our blowers supply air for aquariums, industrial equipments, effluent treatment facilities and others.