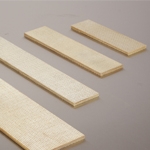 TENMAT LTD -
- Trafford Park, Manchester, M17 1TD, United Kingdom

email, Tel.

TENMAT is a leading manufacturer of specialized, high performance, engineering materials and components with over 100 years of experience.
The diversified product range includes, amongst others, wear parts and bearings, engineering ceramics, high temperature resistant materials, passive fire protection solutions and rotary vanes for pumps and compressors.
products: TENMAT FEROFORM rotor blade materials for vacuum pumps

FEROFORM F57 excels in milking pumps, tanker discharge pumps, and industrial compressors. Careful material selection for FEROFORM F57 and precise fabrication give superb life, cool running, chemical resistance and the widest possible pump operating range in all applications.

FEROFORM F43 is used in fully oil lubricated single and two stage high vacuum pumps.

FEROFORM F200A is used in dry machines.