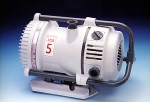 Edwards vacuum -
- Manor Royal, Crawley RH10 2LW, United Kingdom

email, Tel.

world leader in vacuum technology for semiconductor. The company is engaged in the development, manufacture and support of a wide range of vacuum pumps, systems, boosters and accessories based on a number of technologies and capable of achieving high vacuums down to 10-7 mbar.
Edwards pioneered the oil-free dry pump, originally for the semiconductor industry and subsequently for other industrial processes. Typical applications are also in the chemical and pharmaceutical processes, e.g. distillation, reaction, drying.
products: scroll pumps, vacuum down to 0.01 mbar and flow up to 35 m3/h
XDS : The XDS is a scroll pump designed to meet the need for a quality general dry vacuum pump with a low capital cost.
ESDP12: Where vapour pumping is not required, the ESDP12 scroll pump is an alternative for clean and dry turbomolecular pump backing, high energy physics and leak detection.
GVSP30: The other scroll pump in the BOC Edwards range, the GVSP30, has a gas ballast facility which makes it suitable for vapours. It replaces the ESDP30/30A models and features a repositioned exhaust which allows condensate to drain away.
Typical applications: Scanning electron microscopes, ion implanters, sputtering, turbomolecular pump backing, loadlocks, surface analysis, lamp/tube evacuation, leak detectors and hermetic systems.