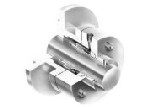 John Crane Inc - www.johncrane.com
- 6400 West Oakton Street, Morton Grove, IL 60053, USA

email: info@johncrane.com

John Crane is the acknowledged technology leader and the world's largest manufacturer of Mechanical Seals and associated products.
With a workforce of over 6000 people in 47 countries, we provide an unrivalled global presence combined with personalized local service and support.
products: mechanical seals

John Crane offers a comprehensive range of engineered mechanical seals and sealing support systems, mechanical packing, power transmission couplings and centralized lubrication systems under the brand names John Crane, Sealol, Safematic, Flexibox, Metastream, Powerstream, and Lemco.
These products are sold widely into rotating equipment applications in Petroleum, Chemical, Pharmaceutical, Pulp & Paper, Power Generation, Food & Beverage, Mining & Minerals, Transportation, Industrial, Water & Waste, Refrigeration, Automotive, and Appliance markets.