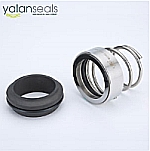 YALAN Seals Ltd. - www.yalan-seals.com
- 21st Floor, Lanjing International Building, City of Hefei, Anhui, China

email: contact@yalan-seals.com, Tel. +86-551-64287402

The production center has 68 full time workers and totally 99 sets of production devices. The whole factory is able to manufacture products of over USD 15 million and has an actual annual output value of USD 13 million per year currently. There are right now 8 full time employees working as a QA team to control every step of the mass production and the purchase of parts and components.
products: pump mechanical seals

mainly used in centrifugal pumps, vacuum pumps, submerged motors, compressor, agitation equipment and decelerators.