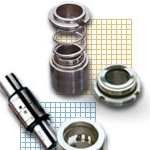 Krutika Engineering Corporation - www.kseals.com
- 9, Gautam Co.op. Society, Marian Compound, opp. - Lourdes Apt., Gautam Budh Marg,
Orlem Church Lane, Malad (w), Mumbai - 400 064, India

email: info@kseals.com, Tel. +91 22 2808 32 60

Manufacturers of a wide range of Mechanical Seals used in various types of Pumps, Agitators, Mixers and Reactors for Sugar, Distillery, Dairy, Cement, Chemicals, Petrochemicals, Fertilizers, Pharmaceuticals, Paper and pulp, Textiles and Shipping industries.
products: Mechanical Shaft Seals