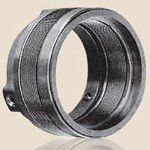 Donglian Mechanical Seal - www.china-dongya.com
- 6 Mingshu Road, Jiangshan Science and Technology Zone, Ningbo City, China

email: sales@china-dongya.com, Tel. +86-574-88452348

Our Company, established in 1992,a provincial and municipal high-tech enterprise, as members of China Fluid Seal Association, China Chemical Seal standardized Technology Committee and China Industry and Commerce Federation, is located in Ningbo Jiangshan Science and Technology Zone,covering an area of 32,000 square meters with a building area of 25,000 square meters and possessed of a self-operating import and export license. Sintered sic, reaction-bonded sic, tungsten carbide, ceramic with high purity and graphite seal faces and complete sets of mechanical seals are the major products.
Over 300 staff have been employed, including 68 technical personnel and engineers. A Japanese expert is engaged as the technical director. Depending on technical and managerial personnel, computer-controlled management, advanced equipment for producing and testing mechanical seals, ISO9001-2000 and ISO14001:2004 have been carried out for many years and TS 16949 is being verified now. Donglian Special Ceramic Metallurgy Research Institute has been established with Beijing Science and Technology University, directed by the academician from Chinese Academy of Sciences: Ge Changchun.
products: mechanical seals

Mechanical Seals:
Welded Metal Bellow Mechanical Seals, O-Ring Mechanical Seals, PTFE Wedge Mechanical Seals, Elastomer Bellow Shaft Seals, Double Mechanical Seals, Teflon Bellow Mechanical Seals, Automotive Pump Seals
Seal Faces:
Ceramic Seal Faces With High Purity, Sintered SiC and Reaction Bonded SiC Seal Faces, Tungsten Carbide Seal Faces, Graphite Seal Faces, Rubber Parts