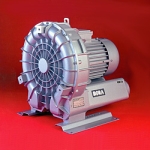 Gardner Denver Alton Ltd (former Rietschle)
- Waterbrook Estate, Waterbrook Road, Alton, Hampshire, GU34 2UD, United Kingdom

email, Tel.

Gardner Denver is a recognised leader providing compressed air and gas, vacuum and fluid transfer technologies to industries throughout the world. With more than 150 years of manufacturing experience, we have earned the trust of our customers.
Gardner Denver Alton Ltd (formerly Rietschle Thomas) supports the sales and service of the complete range of Thomas and Elmo Rietschle products throughout the UK and Ireland.
We are firmly established as a major OEM supplier of component pumps to many important areas of industry including medical, environmental, printing, packaging and automotive.
Our experienced Engineers can assist on the concept design of pumps for the OEM market, right through to pump and system design for end users in industrial, chemical and pharmaceutical markets.
products: Side Channel Vacuum Pumps,
SKE 154 19: Single-flow side channel vacuum pump, Vertical shaft design, Integral silencer and suction mesh
BORA SAP: Double-flow side channel vacuum pumps, Integral silencer, High efficiency, Low noise level, Universal install possibilities, 13 sizes
BORA SAH: Double-stage side channel vacuum pumps, Integral silencer, High efficiency, Low noise level, Universal install possibilities, 11 sizes
COVAC SMV: Multi-stage side channel vacuum pumps, Low noise level, Protection from hot surfaces, Intensive cooling, Paper inlet filter, Exhaust silencer and vacuum regulating valve are fitted as standard