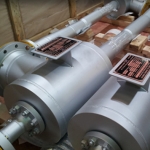 Samhwamix Co., LTD. - www
- , Korea

, email, Tel.

Established in 1979, Samhwa has been growing up as highly competitive company with the state-of-the-art technology. Samhwa supplies various items, including Static Mixer, Ejector, Desuperheater as well as SM Heat Exchanger to various countries all over the world.
products: Ejectors

Without any moving part, an Ejector uses steam, gas, or liquid as motive fluid to transport, compress, or mix gas, steam, liquid, and/or powder.
Ejector spays high speed steam, gas, or liquid through a nozzle, producing vacuum stage.
Ejector is distinguished by the kind of motive as Steam Ejector, Liquid Ejector, Air Ejector, etc.