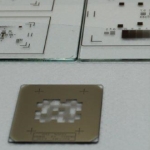 Edge Vacuum Coating, Ltd - www.edgevacuum.co.il
- 7/13 Openheimer St., Rehovot 76702, Israel

Gideon Eidelbaum, email, Tel. +972-8-9466257

The company has a broad experience of over 40 years and specializes in a quick response to its customers. The company develops and manufactures tailored high precision optical components for all the wavelengths, including Atmospheric optics.
products: Vacuum coating and photolithography

Targets, Reticles, Optical grids, Linear and Circulars encoders, beam splitters, Laser beam splitters, Front and back mirrors, AR coating etc.