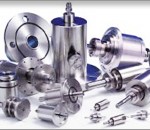 Hangzhou Dahe Thermo-Magnetics Co., Ltd - www.
777 Binkang Road, Hangzhou 310053, China

email, Tel.

Founded on a technology core of Ferrofluid magnetic liquid and Ferrofluidic sealing products, our company and our product portfolio have grown to meet the evolving needs of our customers. Ferrotec is now a global enterprise characterized by substantial intercompany cooperation in research, manufacturing and marketing of products.
Vacuum Technology Manufacturing Division occupies an area of 15000M2 with constant temperature control of about 20±5 in the machine workshop and 20±2 in the QC room, which ensures the manufacturing stability and inspection reliability of our products.
Our manufacturing equipment in cloudes: 42 MAZAK(Japan) multi series CNC precision Lathes, 22 Machining Centers and 15 Drilling, Milling, Sawing and Grinding machines. It is mainly engaged in researching and manufacturing of vacuum feedthroughs vacuum components, vacuum valve, electron beam evaporator. It is the biggest vacuum feedthroughs supplier all over the world.
products: Ferrofluid magnetic liquid and Ferrofluidic® sealing products

Ferrofluidic Seal Solutions including vacuum rotary seals, specialty seals, and interia dampers
Ferrotec's Ferrofluidic® solutions — Ferrofluidic vacuum rotary feedthroughs and other products — use ferrofluid as part of an applied solution.