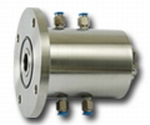 Hunan Loongrise Magnetic & Electronic Technology Co.,Ltd - www.loongrise.com
- Hetang Jinshan Road, Jinshan Industrial Park, No. 489,
Zhuzhou City, Hunan Province, China 412003

Apple Lee, email: lr@loongrise.com, Tel. +86-731-22200791

Loongrise is a high-tech enterprise that combines scientific research, manufacture and sales. Loongrise has a group of expertise at research and manufacture, and has a modern and standard factory. Loongrise is professionally engaged in researching and manufacturing Magnetic Fluid Sealing Apparatuses and Vacuum Spare Parts, and provides technical support.
products: Magnetic rotary feedthroughs, Magnetic fluid sealed feedthroughs

Coaxial seals, Hollow shaft seals, Flanged seals, Water cooled seals