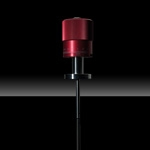 Pfeiffer Vacuum GmbH -
- Berliner Str. 43, 35614 Aßlar, Germany

email, Tel.

Pfeiffer Vacuum is a vacuum technology world leader for more than 130 years: an important milestone was the invention of the turbopump in our company more than 50 years ago. Our comprehensive range of solutions, products and services includes vacuum pumps, measurement and analysis equipment, up to complex vacuum systems.
products: Manipulators and mechanical feedthroughs

Standard Manipulators: Z-Axis Manipulators, XY-Axis Manipulators, XYZ-Axis Manipulators, Rotary-Manipulators, Port Aligners for Angular and Linear Adjustment, Bellows-sealed Rotary Feedthroughs, Elastomer-sealed Rotary Feedthroughs, Rotary Magnetic Feedthroughs, Elastomer-sealed Rotary/Linear Feedthroughs, Magnetically guided Rotary/Linear Feedthrough, Bellows-sealed Linear Feedthroughs,

Customized Manipulators: Numerous science research processes and industrial manufacturing processes would not be possible without a vacuum environment. Most of these processes require that the position of samples or workpieces may be altered within a vacuum chamber - In addition to multiple standard manipulators and mechanical feedthroughs Pfeiffer Vacuum offers custom versions in accordance with your wishes.
Whether Manipulators or mechanical feedthroughs with elastomer seal, diaphragm bellows or magnetic coupling - we will find solutions for your very specific requirements.