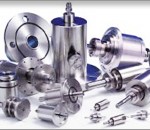 - www.ferrotec.com
- Unit 3, The io Centre, The Royal Arsenal Estate, Skeffington Street, Woolwich, London SE18 6SR, United Kingdom

Stan King, email, Tel

Founded on a technology core of Ferrofluid magnetic liquid and Ferrofluidic® sealing products, our company and our product portfolio have grown to meet the evolving needs of our customers. Ferrotec is now a global enterprise characterized by substantial intercompany cooperation in research, manufacturing and marketing of products.
Over 3000 employees worldwide
Regional Operation Centers in North America, Europe, Japan, China, and Singapore
Manufacturing Locations in the USA, Germany, Japan, China, and the UK
products: Ferrofluidic Seal Solutions

including vacuum rotary seals, specialty seals, and interia dampers

Ferrotec's Ferrofluidic solutions - Ferrofluidic vacuum rotary feedthroughs and other products - use ferrofluid as part of an applied solution.