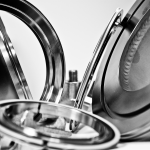 WISSEL GmbH - www.wissel-vakuum.de
- Haagstraße 43, 63776 Mömbris-Hohl, Germany

Jonas Wissel, email: info@wissel-vakuum.de, Tel. +49 6029 9993-0

For over 25 years, we have been supporting our customers around the world as a supplier of standardised vacuum components in all current ISO Standards for vacuum technology (ISO-KF, ISO-K, ISO-F, ISO-CF).
products: vacuum components
manufacturing and sales of vacuum components (ISO-KF, ISO-K and CF-range)
manufacturing of vessels / chambers and complete packaged units
We are your DIN EN 9001:2008 certified partner when it comes to manufacturing pipeline systems. Using your specifications, we are a one-stop shop for complete modules including all purchased parts, finishing and documented testing procedures, and we also package everything just the way you want it. In addition to customers from the semiconductor, coating and solar industries, we also supply mechanical and plant engineers with optimal solutions to a vast array of problems in single-unit or serial production.