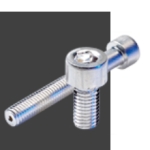 ALMA driving elements GmbH - www.alma-driving.de
- Obere Heeg 5, 97852 Schollbrunn, Germany

email: info@alma-driving.de, Tel. +49 (0)9394 9700-0

ALMA's main business is the design and production of tailor-made components and systems for complex drive requirements that also include ultra-high vacuum engineering. The product range covers high-precision vacuum components like rotary feedthroughs and direct drives e.g. for thin-film technology up to semiconductor, LED/OLED- and solar module production.
products: Vacuum screws

ALMA driving elements finishes ordinary screws by subjecting their surfaces to high-grade precision machining and modifying their "aerodynamics".
With the perfection of their properties, they become very special ALMA vacuum screws.

The four main production steps in the finishing of a vacuum screw
1. High-precision drilling
2. Milled countersink
3. Superfine Post-Rolling of threads
4. Silver- and gold-plating