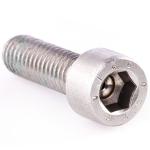 Reliance Precision Limited - www.reliance.co.uk
- Rowley Mills, Penistone Road, Lepton, Huddersfield, West Yorkshire HD8 0LE, United Kingdom

email, Tel.

Reliance Precision is a specialist engineering company, with over 50 years' experience in providing custom-built, high reliability, precision instrumentation to customers from a diverse range of global markets. Our engineering capabilities include design, development, prototyping, manufacturing, assembly and test, complemented by a catalogue of precision motion control components and electro-mechanical assemblies.
products: Ventilation Screws

Mainly used in clean room outgassing chamber environments, Reliance's stainless steel ventilation socket head cap screws are drilled through the central axis to assist cavity ventilation in vacuum and high vacuum assemblies and components. Also available with a slotted head, they are primarily designed to remove or release trapped gas which may otherwise lead to contamination and virtual leaks within clean critical systems. Ventilation screws are often used to release pockets of gas at the base of blind, tapped holes.