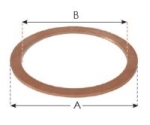 ALBION SUPPLIES LTD
- 5 The Gables, TN34 2JU Hastings, United Kingdom

Simon BENDLE, email, Tel.

Albion Supplies are the leading suppliers of seals and gaskets to the vacuum industry.
products: Copper Gaskets

Copper Gaskets used for creating seals in a CF flange assembly, can be heated up to 450°C in flange flange assembly

silver plated: Normal copper gaskets are attacked by some of the chemicals being used within the vacuum system, the MBE industry being an example of this. The silver plating offers an inert surface that is highly resistant to attack by many corrosive materials.
annealed silver plating: Silver plated copper gaskets resist the external formation of copper oxide (the black ring seen on the outside of an old gasket) which is slowly produced when systems are baked to high temperatures. In some processes, this copper oxide can be a gross contaminantand all the precautions to prevent it getting into the UHV system must be taken. We recommend that silver plated nuts and bolts are used to seal the flange when constant high temperature bake outs are used.