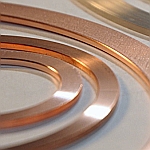 Bostec Engineering, Inc. - www.bostecengineering.com
- 1311 Hermosa Avenue, Hermosa Beach, CA 90254, USA

email, Tel.

products: CF gaskets

Bostec CF gaskets are a high-precision, annealed alternative to conventional, stamped CF gaskets that are unsuitable for ultra-pure or reactive gas environments.

Each Bostec CF gasket is laser cut and then machined on all sides to a fine finish with smooth edge transitions and no burrs. This ensures that the gas path around the ID of the gasket is fully swept and that entrapped or generated particles are minimized. The mating surfaces of each gasket are machined with a precise circular ring pattern, flat to 10RA, that helps the knife edge seat into the gasket for a perfect seal. Bostec CF gaskets conform to SEMI F19 and ASTM B46.1. Dimensional conformity is held to close tolerances and each gasket is temperature annealed in a special process that leaves the part with an ultra-bright appearance and in a dead-soft condition. Dead-soft gaskets are easier on your mating parts and help extend gland life. Our annealing process also strips the gasket of surface contaminants such as carbon, sulfur and other trace elements.
Bostec gaskets are produced from solid raw material and are not plated. For reactive gas conditions, we recommend solid nickel 200/201. Solid OFHC copper, aluminum 1100 and specialty alloys are also available.