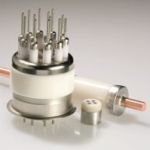 Italbras s.p.a. - www.italbras.it
- S.da del Balsego, 6 - 36100 Vicenza, Italia

Stefania Dalla Rosa, italbras@italbras.it, Tel. +39 0444 347 500

We are experts for brazing, soldering, plating technology, electrical contacts and technical ceramics.
products: Kyocera ceramic-to-metal bonded feedthroughs

Kyocera develops standard and custom-designed metal-ceramic components for high-voltage and high-current electrical applications, as well as measuring and control equipment, industrial and research applications.

Electrical bushings, insulators, sensor components, vacuum chambers: Kyocera's experience can help you find the best solutions in the toughest working environments.