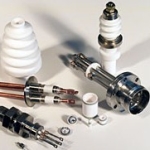 SOLID SEALING TECHNOLOGY - www.solidsealing.com
- 44 Dalliba Ave, Watervliet NY 12189, USA

Amy LeBlanc, email: aleblanc@solidsealing.com, Tel. +1 518-874-3600

At Solid Sealing Technology, we utilize the latest equipment and processes to join advanced materials including: metalizing of ceramics, high temperature brazing, glass-ceramic sealing, welding, and critical mechanical assembly.
Whether you are a distributor looking for industry standard feedthroughs and connectors, or an O.E.M. that requires a custom assembly, SST takes pride in engineering and manufacturing to your specific needs.

products: Vacuum feedthroughs and connectors
High voltage bushings, Sapphire, Quartz, and extended range viewports, X-Ray Tubes
Vacuum Breaks and multi-layer stacks, Thermocouple feedthroughs
Coaxial connectors, Beamline feedthroughs and injector tubes
Small vacuum vessels and hermetic packages, Metalized ceramics
Specialty metal to metal brazed assemblies.