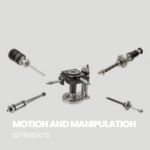 AMT Andreas Mattil - www.andreas-mattil.de
- Talstraße 33, 67737 Frankelbach, Deutschland

email: info@andreas-mattil.de, Tel. +49 (0) 6308 2 09 97 88

AMT was founded in Germany, Kaiserslautern, in 2020, our company supplies UHV Components, Systems and Electronics. Our greatest assets are many years of experience in vacuum technology and a highly skilled, dynamic and ambitious Team. We are focused on quality, our Cooperation Partners are world leading Manufacturers around the world with the highest quality standards.
products: Motion and Manipulation

DPRF Rotary Feedthroughs
Linear Drives
Manipulators
Rotary Drives
Transfer Devices
Z Axis Translators