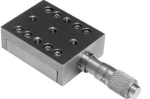 Standa -
P.O.Box 377, 03012 Vilnius, Lithuania

email, Tel. +370-5-2651474

Standa Ltd. was found in 1987. Company has its own industrial base, about 65 workplaces with turning, milling, grinding etc. machine tools. Standa design department, developing the production contained in Opto-mechanical catalogue (such as motorised and manual translation and rotation stages, motion controllers, optical tables, vibration isolation systems, optical mounts and holders, optics, dpss lasers and etc.) also develops the equipment for OEM customers, which is not included into catalogue. Some examples of it, after the agreement with OEM customers, are shown on this website.
Company has laboratories where diode-pumped lasers and laser spectroscopy equipment is being developed. In year 2007 the main attention will be drawn to development of diode-pumped lasers, laser spectroscopy equipment. Standa Ltd. has a highly skilled marketing team, assisting to make the correct choice of Standa products or together with OEM customer to create the product containing mechanics, optics or laser. About 20 companies worldwide representing Standa Ltd. products.
products: Mechanik, Optik, Zubehör

Opto-mechanical products, Translation stages, Rotation Stages, Stainless Steel Single to Multi-Axis Stages
Stable Stainless Steel Translation Stages 7T67-6 have low profile and increased stability of precision. Box designed reinforces the stage, redusing flex. Steel, as a material, adds to stability. The platform is preloaded by springs. The stage could be stacked immediately to other units or to their own type (e.g. in X-Y configuration). The stage could be used upside-down. The stage made entirely of stainless steel.