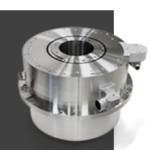 ALMA driving elements GmbH - www.
- Obere Heeg 5, 97852 Schollbrunn, Germany

email, Tel.

ALMA's main business is the design and production of tailor-made components and systems for complex drive requirements that also include ultra-high vacuum engineering. The product range covers high-precision vacuum components like rotary feedthroughs and direct drives e.g. for thin-film technology up to semiconductor, LED/OLED- and solar module production.
products: Vacuum drive solutions

ALMA supplies drive systems and direct drives from standard assemblies through to tailor-made bespoke solutions.

Bespoke drive solutions: High-performance direct drives with magnetic fluid seals to transmit rotary motion in vacuum chambers.

Vacuum servo drives: Vacuum servo drives combined with magnetic fluid seals to transmit rotary motions.

Drive system assemblies: Drive system assemblies made up of standard components.