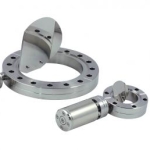 UHV Design Ltd. - www.
- Unit 6, Stonecross Business Centre, Laughton,
Lewes, East Sussex, England, BN8 6BN, United Kingdom

email, Tel.
products: Viewport Shutters
Manual or pneumatic actuation
Position switch option
Fully bakeable to 250°C
Friction control system

UHV Design offers a range of viewport shutters to protect system windows during process, such as vacuum deposition. Utilising the magnetically-coupled MagiDrive rotary feedthroughs (section 1) for the shutter actuation, the range can be actuated manually or pneumatically, where remote control is required. The MagiDrive's low stray magnetic field ensures compatibility with RHEED measurements.

The range also includes the unique AutoClose series, preventing accidental coating of the viewing window.
Viewport shutters are available on four flange sizes from CF38 to CF150 (2-3/4" to 8" OD).