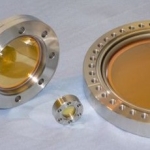 Torr Scientific Ltd.
Unit W6, The Knoll Business Centre, Old Shoreham Road, Hove, East Sussex, BN3 7GS, United Kingdom

email, Tel.

TSL is an innovative company that brings together a unique range of expertise, skills and equipment from the worlds of thin film vacuum coating, general vacuum instrumentation, electro- and electron optics, vacuum analytical instrumentation.
products: viewports

competitively priced UHV viewports , Conflat, ISO or KF including a variety of coatings to enhance performance.
Materials include Kodial, Quartz, Sapphire, MgF2, BaF2, CaF2, ZnSe, ZnS / 'Cleartran', Ge, Si, Lead Glass.