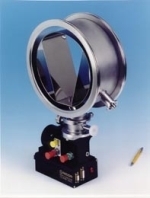 RICOR - Cryogenic and Vacuum Systems - www.ricor.com
- En Harod Ihud 18960, Israel

Yoav Zur, Director of Marketing, email: marketing@ricor.com, Tel. 972-4-6530800

Ricor was established in 1967 and entered the Cryogenic Coolers Industry at the beginning of the 80's.
We offer coolers for the following applications: Electro-Optics, Vacuum Cryo Pumping, Scientific Instrumentation, High Temp. Superconductivity Coils and Applications.
Major Activities: Design, manufacturing, sales and maintenance of cryocoolers for various applications.
Facility: Ricor is a > 30,000 Sq. foot facility consisting of a multi - precision machine shop, spacious assembly areas, well equipped QA department and large volume environmental test chambers.
products: Cryogenic coolers

Cryogenic coolers for IR sensors and other applications, such as cryopumps, cryocoolers for scientific applications, and super conductive devices for the telecommunication industry and medical applications.
Our Technologies are based on Cryogenic Coolers type Stirling (Rotary and Linear), Gifford McMahon and Pulse Tubes (Stirling and GM)