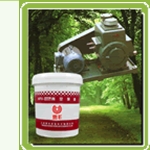 Shanghai HuiFeng Petroleum & Chemical Co., Ltd
- 75-1Fan Yu Road, Shanghai 200052, China

email, Tel. (86-21)62109273

Shanghai HuiFeng Petroleum & Chemical specializes in manufacturing lubricant, grease. The company devote to meet the lubricating requirement of modern industrial equipments. There is a technical team to research and develop new products. Meanwhile, it possesses advanced testing apparatuses and facilities. HuiFeng carried on one of major industrial technical programs in 1993, the development of special lubricant, in order that the lubricant used for project could be made in our country, the program passed Shanghai major technical programme checkup.
products: vacuum pump oil

There are eight series products and more than one hundred kinds such as vacuum pump oil (HFV), metalworking fluid (HFM), compressor oil (HFD), refrigerator oil (HFR), hydraulic oil (HFH), gear oil (HFC).