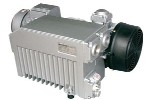 Wonchang Vacuum Co. Ltd. - www.wonvac.com
- 257-27 Yulmaro, Tongjineup, Kimpo city, 10038, Korea

Hee Jong Roh, email: wonvac@wonvac.com, Tel. +82-31-988-6166

We are a manufacturer of vacuum pumps since our establishment in 1982.
With over 35 year experiences in vacuum industry, we have been put our best efforts to produce high quality vacuum pumps and vacuum systems with diverse range of capacity to serve vacuum need in this industry.
products: Rotary vane vacuum pumps

WOVP: Oil Sealed Rotary Vane Vacuum Pump
WVS: Sliding Vane Dry Vacuum Pump
WBS: Sliding Vane Dry Combined Pump (Vacuum & Pressure)