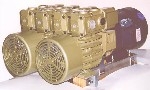 Orion Machinery Co.,Ltd. -
- 246, Kotaka, Suzaka-Shi Nagano-Ken 382 8502, Japan

email, Tel.

Founded on November 3rd,1946
Number of Employee : 650
Subsidiary company : 43 companies 1,550 employees
Orion Machinery Co., Ltd. received ISO 14001 certification on March 29, 2002 for its Head Office/Factory and Koshoku Plant. Orion shall develop Environmental Management System (EMS) through efficient implementation to protect our environment and promoting product developments which harmonizes environment.
products: Dry rotary vane vacuum pumps

for the food, medicine, printing, precision machinery, office machine, dairy and other general industries since its development as Japan's first oil-less vacuum pumps in 1965.