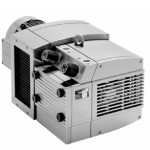 Becker Pumps Australia -
- 10/170 North Road, Woodridge QLD 4114, Australia

Jason Ward , email, Tel.

Becker Pumps Australia distributes oil flooded and oil-less vacuum pumps, compressors, and blowers, for industrial and medical applications.
products: Rotary vane vacuum pumps

Becker offers a variety of vacuum pump types that cover a wide range of operating pressures and open flow air rates. Our range includes Rotary Vane Pumps (with a simple single shaft and direct drive), Screw Pumps, Side Channel Pumps (in both single and double stage models) and Radial Pumps.
A recent addition to Becker's range is the Series X Oil Free Rotary Vane Vacuum Pumps which are equipped with completely newly developed vanes which for the first time have a full warranty of at least 20,000 maintenance-free operating hours and a four year warranty to match.

Suction Systems, Repairs and Service, Vacuum Lifting, Ventilation Systems, System Design, Medical Suction Systems.