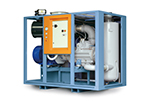 Pneumofore - www.pneumofore.com
- Via N. Bruno, 34 - 10098 Rivoli (Torino), Italy

email: info@pneumofore.com, Tel. +39 011 950 40 30

Since 1923, Pneumofore has pioneered, developed, and refined the rotary vane principle to an art.
Pneumofore vacuum pumps and air compressors are the largest, single-stage, air-cooled, lubricated rotary vane machines in the world - extremely versatile solutions for limitless applications. Choosing Pneumofore means decades of benefits and hassle-free operation.
products: Rotary vane vacuum pumps in bottle production
Centralized Vacuum Systems, Vacuum Accessories
UV Series vacuum pumps cover from 250 to 6480 m³/h [148 - 3816 cfm] at operative pressure from 450 to 0,5 mbar(a) [16.6 - 29.9 inHgV]. The UV100 is the world's largest rotary vane vacuum pump, single-stage, lubricated and air-cooled, with 220 kW [295 hp] installed power.
Pneumofore machines are designed for the minimal Life Cycle Cost. Low power consumption means low cost of operation and reduction of the environmental impact. For all models several options are available like Variable Speed drive, wide range of vacuum degree, heat recovery, water vapor suction, Hot Climate for air-cooling in ambient temperatures up to a 55°C [131°F].