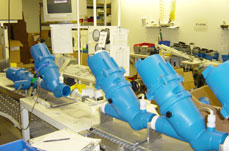 AIRVAC - www.airvac.com
- 4217 N. Old U.S. 31, Rochester, IN 46975, USA

email, Tel.

Our first U.S. municipal vacuum sewer system was installed in St. Michaelís, MD in the early 70ís. Since then, more than 700 AIRVAC vacuum sewer systems have been installed worldwide, including nearly 250 systems in 27 states in the United States.
products: vacuum sewers

AIRVAC vacuum sewers are a cost-effective, inexpensive alternative to traditional gravity sewers providing low maintenance, efficient and reliable sewage collection. As the industry leader and expert in vacuum sewer system technology , AIRVAC offers vacuum valves, valve pits and vacuum station equipment as well as our expertise in design, construction and operation of vacuum sewage systems .