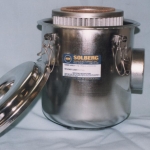 SOLBERG FILTRATION SILENCING SEPARATION
- 1151 Ardmore Ave, Itasca, IL 60143, USA

Gabriel Kami, email, Tel. 6307731363

Worldwide manufacturer and solution provider of inlet filter silencers, intake filters, silencers, inlet vacuum filters, air/oil separators, liquid knockout filters scrubbers, replacement filter elements, filter cartridges & vacuum assisted oil mist eliminators, both standard and custom.
Applications include compressors, blowers, engines, vacuum pumps, power generation (gas turbines & reciprocating engines), solar manufacturing equipment and medical work equipment industries.
products: inlet vacuum filters, liquid vacuum separators
oil mist discharge filters, breathers, inlet filter silencers
oil mist eliminators, replacement filter elements, standard and custom designs available