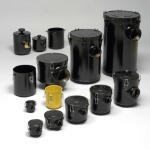 SOFIN - www.sofin-industrialfilters.it
- via Pescarito 101/D (z.i. Pescarito ) - 10099 San Mauro Torinese (TO), Italy

email: roberto.milo@sofin-filters.it, Tel. +39 011 274 08 04

Sofin, a leader in the production of filters for industrial use, operates in the field of air and liquid filtration in general and specialises in the production of complete filters, filter cartridges and oil filters for vacuum pumps, fan pumps and compressor pumps, industrial dust removal and liquid filtration for electron discharge machining (EDM). Thanks to the use of technologically advanced machines and thanks to the efforts of highly qualified staff, the company is able to offer products of the highest standards.
products: Filters for vacuum pumps
Standard paper Filter elements with 5µmicron filtration, guaranteeing excellent protection of vacuum pumps during normal working conditions.
For special applications, it is also possible to request filter media in polyester, with capacity 3µmicron, stainless steel metal cloth with various levels of filtration or in microfiber with HEPA or ULPA level absolute filtration.