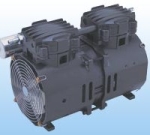 ULVAC KIKO Inc. - www.ulvac-kiko.com
- 1-10-4, Kitashinyokohama, Kohoku-ku, Yokohama City, Kanagawa 223-0059, Japan

email, Tel.

ULVAC KIKO, a member of the ULVAC GROUP, provides vacuum pumping solutions for a wide variety of industries and applications. ULVAC KIKO is responding to the needs of the industrial, food, air-conditioning, medical instrumentation and semiconductor industries by designing small vacuum pumps that are very reliable and cost effective.
products: Rocking Piston Type Dry Vacuum Pumps