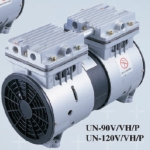 UNI-CROWN CO., Ltd -
- 4F-1, NO. 700, Jhongjheng Rd., Jhonghe City, Taipei County 235, Taiwan, R.O.C.

email, Tel.
products: Uni-Crown Co. Ltd is specialized in manufacturing mini / small and medium sized oil-less vacuum pumps and air compressors ranging from 25 to 1100W and with AC and DC motors.

They can be used in many application like medical apparatus, health care devices, electronic industry, printing machines and various automatic machineries assembly.