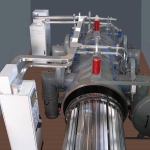 Private limited company Ferri Vatt
- Adelya Kutuya st. 159, Kazan, 420089, Republic of Tatarstan, Russia

email:

Company was established in 1991 by Vakuummash employees who had been engaged in designing vacuum coaters for mirror production and application of protective-decorative coatings as well as vacuum dryers for wood, drugs and foodstuff.
Since then we have manufactured more than 60 plants of various types and purposes. Some were produced in a series, like VATT-1200M, VATT-1600-2Mglass coating lines, others were subjects of individual orders.
Продукция: Float glass coaters
Plants for application of decorative coatings, protective-decorative coatings on metal substrates, decorative coatings on massive glass and glazed tiles
Combined coaters for depositing coatings of metals and their compounds with subsequent deposition of SiOx by means of plasma polymerization