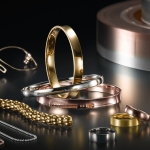 Heimerle + Meule GmbH - www.heimerle-meule.com
- Dennigstraße 16, 75179 Pforzheim, Germany

Carsten Zech, Key-Account-Manager,
email: carsten.zech@heimerle-meule.com, Tel. +49 7231 940-2557

As Germany's oldest gold and silver refinery, Heimerle + Meule stands for lasting values - as reflected in our products, our philosophy and in our company's history and traditional roots. Founded in 1845 in Pforzheim (known locally as the Golden City), our company has evolved to become one of the leading end-to-end suppliers on the precious metal processing market. Precious metal recycling and trading, precious metal semi-finished products, surface coating,..
products: Gentle, durable, versatile PVD coating

With extensive expertise in electroplating surface coating and PVD coating, Heimerle + Meule offers the right solution for any application.

Whether you want to subcontract electroplating work for the decorative or the technical field, we have the optimal procedure for all batch sizes as well as for customised production of single items.

Experienced electroplating specialists work in our in-house rack and continuous strip electroplating, applying their well-founded knowledge to find the perfect customer solution.