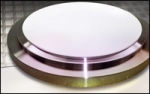 Thermal Conductive Bonding, Inc. - www.tcbonding.com
- 1430 Tully Road, CA 95122 San Jose, USA

Jacques Matteau, email: jmatteau@tcbonding.com, Tel. +1 408-920-0255

Since 1998 TCB has offered high quality bonding services for the high technology communities. Having successfully developed proprietary bonding techniques that uniquely address issues relating to assemblies such as sputtering targets, Electrostatic Chucks, and Gas Dispenser Plates, TCB has had a focus on the thin film and semiconductor community. With many decades of solid experience in joining materials TCB continues to explorer diverse applications that would have us expand on where our techniques and bonding materials can be used.
products: bonding services

Precision Bonding Services, Indium Bonding, Elastomer Bonding, Custom Sputter Coating